STEM CELL COIN
Making regenerative medicine global
Idea of STEM CELL PROJECT
There are concerns that the social security system in Japan, where one can observe such acute problems as declining birthrate and aging population, will reach a deadlock in the near future. Recently introduced medical administrative measures, such as raising individual payment responsibility, expansion of flat-rate treatment system, reduction of hospitalization days, promotion of use of generic drugs, can be observed not only in welfare, but in healthcare as well. These measures contradict the entrenched medical ethics in Japan, which can be described as "Medicine is a benevolent art". One can feel the turn to the economically driven direction, reproducing the "managed care" implemented in the United States. Amidst these circumstances, interest in diseases prevention is increasing more and more in Japan. However, the focus is on improving lifestyle habits such as meals and exercise, and many people do not consult with specialists and take care of their health by themselves. On the other hand, it is not enough to improve your lifestyle to prevent disease. Only checking the body regularly clarifying "is there any abnormality in the body, which does not correspond my age?" is the most effective means for early detection of a disease. "Is it possible to prevent diseases, or prolong healthy life, by stem cell therapy as state-of-the-art regenerative medicine?" Based on these concepts, we have launched the STEM CELL PROJECT to extend the healthy life expectancy, particularly for those who are also the cornerstones of society, and make contribution through bringing innovations to the field of preventive medicine.
Through this project, we wish to provide "a long vigorous life" to more people.
It actively uses cells to regenerate their functions in tissues and organs that have become impaired or are malfunctioning.
The market size of regenerative medicine is expected to reach 2.5 trillion yen in the domestic market and 38 trillion yen in the world market by 2050, and it is expected to bring an enormous economic effect to Japan in the near future.
Prediction of future market size of regenerative medicine (domestic)
< Method of calculating market size in Japan >
"market size of regenerative medicine" = "no. of patients *1" x "costs per patient *2"
*1: "no. of patients" = "no. of latent patients in Japan" x "application rate of regenerative medicine"
*2: "costs per patient" = "unit price of products/processed products" + "medical charges for regenerative medicine (eg. Technical fee)"

Prediction of future market size of regenerative medicine (world)
< Method of calculating market size in the world >
"market size of each country" = "current market of regenerative medicine in the country *1" x "adoption rate of regenerative medicine *2"
*1: "no. of patients" x "costs per patient" (same as the method for the Japanese market"
*2: Estimated from population, income (commodity prices), developing items, existing market, R&D budget, etc.

What is stem cell therapy?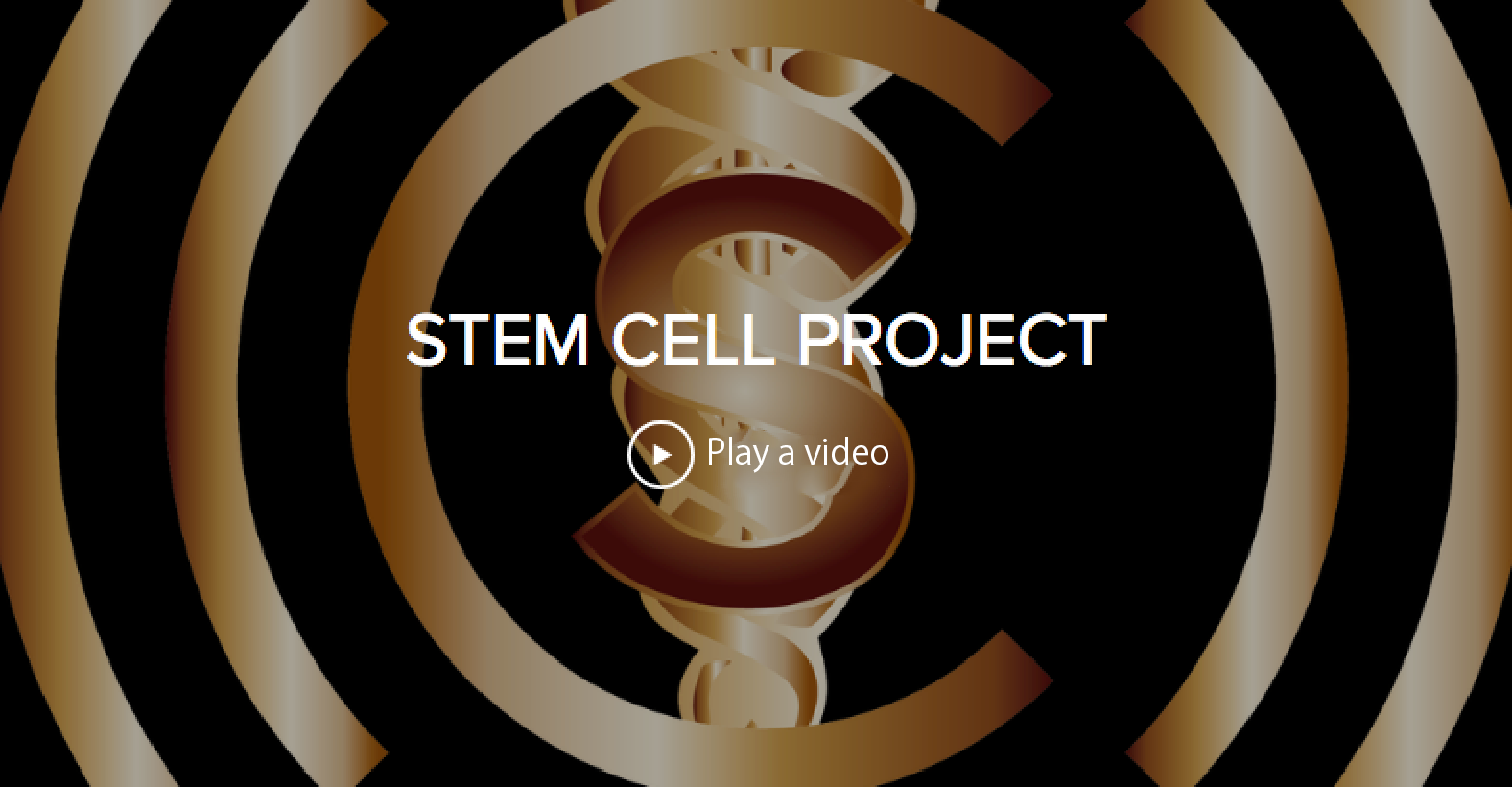 Overview of STEM CELL PROJECT
Medical expenses in cryptocurrency
Virtual clinic. Concept of the platform
Implementation of image processing methods in diagnostic pathology using AI and blockchain technology
Reaching out those who need regenerative medicine
Accredited medical institution for stem cell biology
For regenerative medicine using stem cells, the appropriateness, safety, number of doctors, and cell processing management system of the treatment are severely examined at the specified certified regenerative medicine committee approved by the Ministry of Health, Labor and Welfare. Only when it is seen as appropriate, it is possible to submit a treatment plan to the Ministry of Health, Labor and Welfare, and it will be possible to do treatment. In response to Class II Regenerative Medicin e , and under the opinion of the Committee for Specified Accreditation and Regeneration Medicine, we submitted regenerative medicine plans to the Minister of Health, Labor and Welfare, submitted notifications to Kyushu Welfare Bureau, and started treatment using adipose derived stem cells for the purpose of treatment and symptoms remission.
Medical network
STEM CELL PROJECT has already made plans to establish clinics and medical institutions in various places. Funds raised during the ICO will be used for their further development and expansion.
Model of Project Income
We are conducting business development with the project team
affiliated medical corporation. We are planning to expand our business focusing on opening several clinics and facilities.
SCC PRESS/NEWS
2019.02.28
This project was featured in several domestic media including "coin telegraph" which is the largest virtual currency media.
As a rare world-class practical token, we will continue to expose to various media in the future.

【Coin Telegraph】
https://jp.cointelegraph.com/press-releases/stemcellcoinpr001

【Coin message】
https://coinmessage.net/articles/detail/1411

【Coin OTAKU】
https://coin-otaku.com/topic/35951

【Bittimes】
https://bittimes.net/news/48055.html

【Crypto currency girls】
https://coin-girls.com/2019/02/27/scc-clinic/

2019.02.25
From March 1st this time, a clinic that can be settled by SCC will be added to Osaka and Tokyo. (Reservation required from customer center)
Along with this, a customer center for visit reservation and consultation reception has opened, so I will show you along.
In addition, SCC settlement can not be done if you make a reservation directly to the clinic, so please make a reservation from SC Customer Center for SCC settlement reservations. (It will be operated from ※ 3/1)

These contents will be announced through various media sequentially starting February 28.
As a result, the first product "SCC's settlement of medical expenses" is released, and SCC will start as a practical coin.
We believe that these can be realized only with the support of our holders, that this project is based on the practice of medical care.
While a wide variety of cryptographic currencies are muffled, there are only a few currencies with practical utility as well as investment and speculative purposes.
Under such circumstances, the impact of this news on the world is immeasurable and can not be predicted, but we believe that it will have a positive effect on the price of SCC.
We are preparing to be able to make a good presentation on a regular basis in the future so we will continue to press release strategically to satisfy all of our holders.
We will strive to expand services that will satisfy everyone in the future.
We sincerely appreciate your continuous support and we appreciate your kindness.

2019.02.01
Always I am indebted.
It is SCC support desk.
We are pleased to announce the addition of two new companies to this project team.

【RMDC Co., Ltd.】
This Bio-Venture company has their own original technology for cell cultivation.
This technology is our strength of this project.
And this company has specialist, for the cell cultivation of cell therapy, from around the world.
In Japan their main business is R&D of the cell cultivation technology, technology transfer and support of the cell culture environment.
In oversea, not only they culture the cells in their own clinic, also culture the cells from other medical institutes.
This company will be the core value of this project, and the center of the STEM CELL PROJECT.
Moreover, they're proceeding some business tie-up and joint R&D with university and medical institute.

【Medical corporation RURIKAI】
It is a medical corporation based in Osaka.
Currently it operates mainly as outpatient vaccine etc., but this project will be a medical corporation responsible for the administration of directly managed clinic scheduled to open in Osaka.
Osaka clinic expects to open until around spring, we will inform you as detailed timing and treatment menu will be chosen as soon as it is finalized.

2018.08.23
STEM CELL PROJECT was posted on "COIN TELEGRAPH" which is the world's largest virtual virtual currency media.
This project is also posted on many other domestic and overseas media.
The latest information will be updated by SCC official SNS (Telegram・Facebook・Twitter).

https://jp.cointelegraph.com/press-releases/stemcell-project-combines-stem-cell-therapy-with-the-blockchain-technology
2018.08.03
We will inform you that approval of regenerative medicine type 2 has been received from the Ministry of Health, Labor and Welfare at the Zhu cell clinic Fukuoka Regeneration Medical Center operated by this project team "Medical Corporation KOGEKAI." In Japan it will be a medical institution capable of treating one of the leading stem cell therapies. Each permission number is as follows. ※ It is scheduled to be listed in the Ministry of Health, Labor and Welfare HP at a later date.
2018.05.16
SCC white paper ver1.0 has been released.
2018.05.16
STEM CELL COIN 's ICO started. The latest information, including IR of the project, will be released here.
Clinic
SC Customer Center
Here we are accepting visit reservation · treatment consultation by phone · mail · LINE.
In case of SCC settlement, please make a reservation from the SC customer center.
In addition, SCC settlement can not be done if you make a reservation directly to the clinic, so please make a reservation from SC Customer Center for SCC settlement reservations.
※ The settlement rate will be converted to the market price rate at the time of reservation.
※ Inquiries about SCC can not be accepted here. For inquiries about SCC please contact
info@stemcell-pj.com
.
Shinsaibashi Grace Beauty Health Clinic
| | |
| --- | --- |
| Location | Osaka Prefecture Osaka-shi Chuo-ku Minamisenba 4-12-10 ACN Shinsaibashi Building 4F |
| Treatment content | Beauty dermatology · Cosmetic surgery (For details please check HP) |
| HP | https://grace-beauty-clinic.jp/ |
Full reservation system (reservation is to SC customer center)
Oda Clinic
| | |
| --- | --- |
| Location | 1 - 11 - 3 Okubo Shinjuku - ku, Tokyo 2 D |
| Treatment content | stem cell therapy · immunotherapy |
| HP | -- |
Full reservation system (reservation is to SC customer center)
Partner
team
Issuing company
MTA Intec PTE LTD (Singapore corporation)
Medical Association · Medical Corporation · System Development
The Japanese society of aesthetic regenerative medicine
World agent Co.,Ltd. (system development)
RMDC Inc.(R&D, Technology Transfer)
Medical corporation RURIKAI (Clinic operation)
Security team
We constantly monitor and strengthen the security of the system to avoid the hacking of artificial intelligence.
Blockchain team
SCC is implemented by this team. On the basis of the concept of Stem Cell Project, we will implement our private Blockchain .
Marketing team
Formulation of advertising strategy of STEM CELL PROJECT. We specialize in branding, information distribution and the project support.
Member
CEO
Takayuki Matsuo
経歴
私、松尾孝之は、化粧品開発及び販売事業と並行し15年前から自律神経のバランスが崩れ様々な病気の引き金となることもあり世界最小のワイアレスデジタル心電計の開発及び販売に関わることからオンデマンド医療事業とバーチャル事業との融合の実現に取り組んでおり、2010年にヒト幹細胞由来の培養液という化粧品原料に出会い、海外に市場調査を行った結果、日本国内の再生医療医師とパートナーとなり独自の開発及び医療マーケットの樹立をスタートしました。 再生医療を心より待ち望んでいる多くの方々により安全かつスピーディーに体験していただくことを目的とし、同じ志をというチームの結成に取り掛かり、現在既に治療ができる医療機関をグループにもち、さらなる 目的であるコストを落とすことによりさらに多くの方々の希望を実現させるためにクリニックの拡大及び研究機関への援助を実現します。
Medical support
Cheif Director
Syuji Yamaguchi
経歴
上海中医薬大学 教授
国際抗老化再生医療学会 理事
日本臨床医学発毛協会 理事
国際伝統医学教育研究振興機構 理事
日本理学療法研究会 代表顧問
がんの家族をすくう会 代表
21世紀医療を学える会 代表
再生医療研究会 代表
Marketing
Copyright 2018 STEM CELL PROJECT - All Rights Reserved